The Most Important Components Affecting the Whole Performance of Thermoplastic Line Marking Machine
The structure of the thermoplastic pavement marking machine is varied depending on the different designs,materials or the applications. Generally, the pavement marking machine are normally composed of the engine, the air compressor, the paint (melting) bucket, the spray gun, the guide rod, the controller,the die shoe, the dispenser and the other devices, and also need to be equipped with a variety of driving carrier to provide power for the machine according to the needs.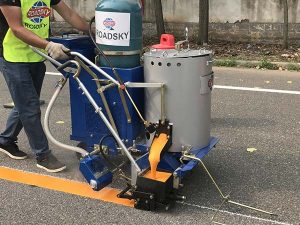 Here mainly introduce three components of the line marking machine:engine,air compressor,and the paint bucket.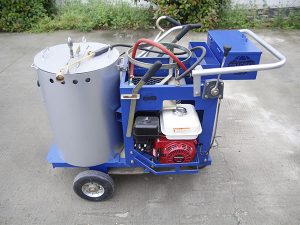 Engine: Most of the line marking machines are adopted with the engine as a driving force, some use the battery or the liquefied gas. If adopted with the engine, the power ranges about 2.5HP to 20HP. The best engine is the internationally renowned brands, such as from Japan's Honda, its advantages are self-evident: stable performance and spare parts purchasing easily,which can even determine the performance of the entire equipment.If adopted with the battery as the driving force, considering the running time each charge not less than 7 hours.
Air Compressor: For the road marking machine spraying by air pressure(not the hydraulic pressure),it is also the main part that affects the performance for the whole machine. As with the engine, you should consider buying machines with internationally renowned brand air compressors. The bigger emissions are better within a certain limit.
Paint Bucket:There are two main functions: One function is the to carry the melting paint, from this sense, the size of its capacity will affect the number of filling and the progress of the operation. The other function, ignored by many users, is that the container is also a pressure vessel, which is pressurized by an air compressor and becomes a pressurized 'gas tank' to become the driving force of the striping work. In this sense, The sealing, safety, corrosion resistance are the important properties that the user should be concerned.