Roadsky Staff Meeting on June
On 30th June, the last day of the month, the staff meeting was held as normal.The meeting contained the several parts, the welcoming of new freshers, the summary of achievements on this month,the buffet dinner and the big discussion about the problems.
The delicious buffet dinner in the restaurant.
Every month, there is new freshers coming into Roadsky family and gathering together is so lucky for all of us.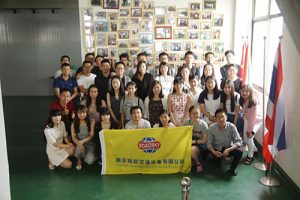 The finance data for June was presented publicly in the forms and analyzed by boss Johnson. All the department achievements were reviewed and the outstanding worker Jessie was praised for the excellent working performance.
In the afternoon, a series of problems about the new photographed film for our products were submitted. Sales Department and Marketing Department workers joined the meeting and offered proposals to cope with the problems.