BASIC INFO Parts On-Site Working Packing
RS-1 series hand push thermoplastic road marking machine (pavement marking machine) is special-purpose equipment for road marking. It is used for highway, road axis, lane line, community, airport,etc. to mark all sorts of thermoplastic lines that are reflective such as straight line,dotted line, curve, oriented arrow, and letters.
Specifications:
| | |
| --- | --- |
| Thermoplastic Paint Tank Capacity | 100 kg |
| Glass Beads Tank Capacity | 10 kg |
| Dimensions | 1210*760*1000 mm |
| Weight | 125 kg |
| Marking Width | 50mm to 500mm or customized |
| Marking Thickness | 1mm to 4mm |
| Marking Speed | 500-1200 m/h |
| Service Life | 5 to 10 years according workload |
| Application Area | highway,urban street, parking lots |
| Optional Equipment | RS-11, double dispenser, adjustable dispenser, double line die shoe |
CE Certification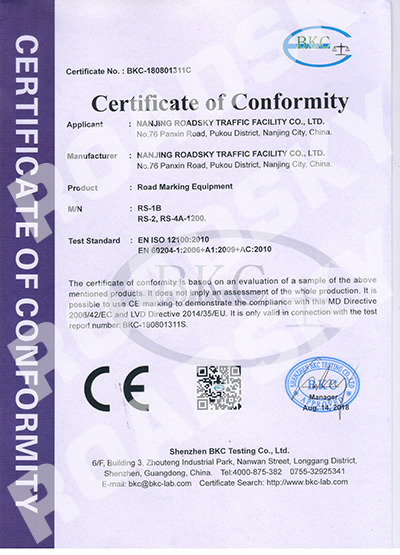 Paint Tank
Die Shoe
Paint tank: The standard capacity is 100kg, yet can be customized according to specific order.
Die Shoe: Pavement marking die shoe of different width can be customized ranging from 50mm to 500mm. Double line die shoe is also avaliable.
Glass Beads Dispenser
Glass Beads Tank
Glass bead dispenser: this device is strictly matched with the specific die shoe and can be only applied in dies of certain specification. Adjustable dispenser is available.
Glass beads tank: its tilting bottom makes it convenient for glass beads to flow.
Rear Wheel Holder

Rear wheel holder: it serves as a switch: when turned on, the machine can move freely; when turned off, the machine can only move in one direction.
Indicative rod: it functions as a guide: if it is aligned with waterline, then the direction of marking is correct.
Additional Parts for road marking machine